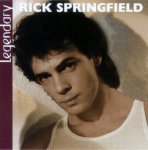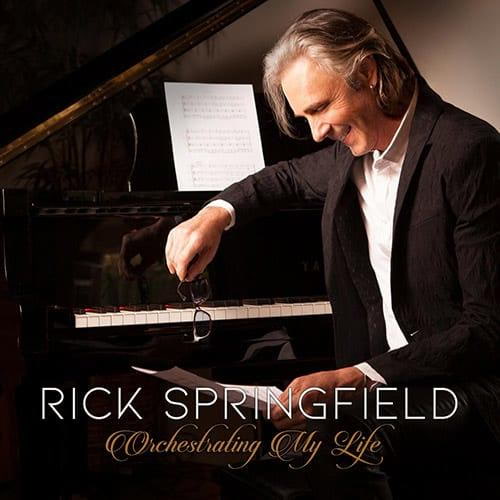 AFFAIR OF
THE HEART
(words by Rick Springfield
music by Springfield, Tosti, & Tate)
Heart in my mouth; pulse in my head
Mercury rising into the red
The smell of the skin can light up
all the fires in me

Hungry to touch, I'm eager to please
Out of control and I hand you the keys
Every night I am burning to make love to you

But don't try to tell me you think it's all physical
It goes much deeper than that
You ought to know it's an Affair Of The Heart
It's an Affair Of The Heart
It's an Affair Of The Heart
Have a little blind faith, believe
It's an Affair Of The Heart

When we make love,
it's a passionate thing
You shudder and shake,
sink your teeth in my skin
I almost believe you were
made to be played by my hands

And you got the power; it amazes me still
How you play my emotions with consummate skill
I don't have to look any further than into your eyes

So don't try to tell me you think it's just physical
It goes way deeper than that

You better know it's an Affair Of The Heart
It's an Affair Of The Heart
It's an Affair Of The Heart
Have a little blind faith, believe
It's an Affair Of The Heart

Don't try to tell me you think it's all physical
It goes much deeper than that
You ought to know it's an Affair Of The Heart
It's an Affair Of The Heart
It's an Affair of the Heart
It's an Affair of the Heart
You better know it's an Affair Of The Heart
It's an Affair Of The Heart
You better know it's an Affair Of The Heart
It's an Affair of the Heart
Baby, and Affair of the Heart
It's an Affair Of The Heart
(fade)

(total playing time: 4:32)

SONG FACTS:
Rick performed this song live on the
Beat of the Live Drum Special.
This is the song with which Rick has
opened up the majority of his concerts.
It appears on the following releases:
Living in Oz, Alive - Greatest Hits, Anthology, Best 21, Best of Rick Springfield [Japan], Best of Rick Springfield [RCA], Best of Rick Springfield [UK], Encore Collection, Greatest Hits, Legendary, Platinum & Gold, Rick Springfield, VH1 - Behind The Music, Anthology (written in rock), We Are The '80s and other misc. compilation cd's. It reached #9 on the Pop charts debuting 4/16/83.
About co-writer Danny Tate:
"After moving to Nashville in 1980, it didn't become any easier. Some publishing companies appreciated his work, but Music City and Los Angeles were much more segregated than they are now. And his efforts went largely unnoticed.
But one day he played a tape of five songs to a friend in Los Angeles, who was convinced that one of them would be perfect for Rick Springfield. As fate would have it, the friend attended a party for Springfield in Hollywood, got drunk, then followed the singer into the men's room, knocked on the door of Springfield's stall and handed him a tape.

"I'm laughing," Tate says, recalling his friend's story, "knowing the tape wouldn't make it past the trash can."

A month later, Tate was nearing rock bottom. He was waiting tables at The Stock-Yard, and his girlfriend complained that he was a dreamer who could never make anything happen, so she moved out. While Tate slumped in a chair at home, dejected over his misfortune, the phone rang. It was Springfield's manager, who called to say they'd recorded the song but wanted to make a couple of changes.

The song, Affair of the Heart, rose to No. 9 on the Billboard pop chart, and Tate got the ultimate revenge on his girlfriend."
Rick Says: Affair of the Heart was actually an intro that someone sent me attached to a song that I didn't like, but I thought the intro was great, so I rewrote the song and that's why there are a couple of other names on the song. It's based on a relationship that I draw most of my ideas from and it's just feelings that I felt. - Hot Ones Radio Show, 1984.
According to US

Can I just ask if it's bad that I haven't even had to break out this CD for extra listening purposes? LOL These songs are so burned into my brain that they'll never leave.... I'm taking what I wrote "before" and revising it. So if you visit 'that other page' you might see shades of this.

I remember I heard this song first by seeing the video "world premiere" on MTV. Let's just say that it opened up a whole new world for me, and changed the way I was a Rick Springfield fan. I went out as soon as possible to purchase the LIO album, and have never looked back -or should I say twice, at another musician the way I do at Rick.

I was swept away by this rock "love song". It is obvious that Rick was so in love with the object of these lyrics. A few years ago I wrote a piece that detailed my thoughts that this song is about a (Rick's) guitar! I still feel that way.... sort of. Here's some of what I wrote then:

>>Scroll down and read 'em again, those lyrics aren't about a woman...makes a little more sense, eh?

"The smell of the skin can light up all the fires in me" Not your skin, THE skin. Not a musician here, but I know that refers to some part of the guitar. "Out of control, I hand you the keys - Every night I am burning to make love to you". This line makes you want to squirm, right? I think I would fall over, THUD!, right there if Rick even remotely uttered this near me. But, I digress - hand you the "music" keys; and every musician I know says in order to make good music, you must "make love" to your instrument. "I almost believe you were made to be played by my hands." C'mon! That says it right there, doesn't it???

So I'm thinking, that the "Don't try to tell me you think it's all physical" is Rick really telling himself that he didn't want to look the rock star image - it was in his heart, to BE a rock star..."it goes much deeper than that". Sigh, this is the lyric-meister at his masterful best. The whole world is thinking you are talking about a woman who doesn't want to fall in love with you, it's all physical with her...yet Rick, you're in love with your guitar! Your guitar is your life. Well honey - you can play me anytime! <<

Okay, so part of me STILL thinks this is a great analogy...but I'm straddling that fence of: is it a guitar, or is it a woman? Rick himself admits this is based on a relationship that he draws most of his ideas from. I don't know, but I'm thinking he's had a guitar since he was 13.... girls (wife) not quite as long as that. I guess we'll never know.

This has got to be the best opening live song for Rick. It's already got that pulsation going in the music that matches your heart once those lights go down and the music starts. "Heart in my mouth, pulse in my head, mercury rising into in the red...." That pretty much sums up my feelings at the start of a show. Once he finally graces the stage, usually with that killer grin of his-it's almost like a climax. I still think when this song starts up somewhere the middle of the show instead of being used as an opener, "NOW the show can start!" LOL Wherever I am listening to this one, it brings back the feelings of being at a live show. Not many songs can do that for ya. - Michelle P.

---
I have no idea how I felt about this song originally, but I absolutely love it now, especially live. When listening to this song, it's hard not to imagine Rick doing that strut onto the stage that he did when this was the opening song for the show. This song was the opening song for so long, that even when I hear it now, it still makes my heart race as if the show is just starting. There's such poetry to the lyrics. For some reason, when I think of the "Living in Oz" record, this is the song I think of first.

The first time I saw Rick again since the 80's was at a House of Blues and we were eating dinner (I'm sure all the hard cores had already eaten and were out in line, this is when I was still clueless), and Rick sound checked this song. Before that, I had been a little hesitant, so I had no idea what to expect. When I heard the sound check of this song, I KNEW the show was going to be good. That's when I really started getting excited. Then, he opened up the show with this song and less than a minute into it, he did one of those really high kicks, my jaw was on the ground, and I looked at one of my friends and said "this is going to be good!". So this song definitely brings out a lot of emotion. -rlh

---
From the first note, to the very ending of this song, I can only think of one thing...."SEX"!! This song just screams that out at me now. I remember my mom saying one time that Ricks music was a little 'bad' and I had no clue what she was talking about, but now that I am a grown woman.....I know what she meant.

This has got to be in my top 10 all time favorite Rick songs. The music, the words, the sultry way he looks at the camera in his Solid Gold performance.....Damn! I just love it, no other way to say it. - Amy L


---
I was pleasantly surprised when Affair of the Heart came out. It sounded different to me than anything I had heard from Rick before. Then when I bought LIO, I realized he had co-writers on this song. I thought the guitars really sounded tough. I would call it one of his tender but tough songs. He is in love but his girl doubts that it is real and this makes him angry. I thought that he did a really great job with the vocal. His voice almost becomes a little gravelly at times. Sort of like a growl. It had to be strong to go with the music. The music has such a great driving beat right from the beginning. Elizabeth S.
---
I'm not even sure if I can explain what this song means to me…and how completely enthralled I was when I first began listening to it. Talk about sending some female hormones into overdrive! I still find myself reeling when I hear it! As if I wasn't already completely infatuated and connected with Rick, his music, his words, his voice…and then he goes and does this to *me!?* (and I won't even go into the reaction the video caused! That's for another review!) How do you describe a song like Affair of the Heart that has been with you for nearly your whole life? It's like a `piece' of me. Even after I warped both of my LIO tapes and let the music `rest' for a few years…this song was still etched in my memory so clearly I could practically hear it…years later, when I'd only heard it from time to time (compared to 100 times a day or so!). Certain lyrics from the song would just rise out of nowhere in my mind at some of the most interesting times, like a little voice saying, "hey…remember me?" Rick's music definitely has a way of fitting into our lives in so many ways.

I don't even need to listen to the song to do a review, but of course I will. Any excuse to play this song! :) Just by memory I can `hear' every pleading, longing sound in Rick's voice, the catches in his breath, the vocal inflections, the opening rhythmic guitar strums that I love so much that are carried throughout the song as the underlying beat…like a heartbeat. This is one of the most sexy, skillful, catchy, passionate songs Rick has ever written, in my opinion. It's near the very top of my list when it comes to Rick faves. It's absolutely my favorite song from LIO. AOTH is like the ultimate `love' song, with the perfect words I would think most women would love to hear from their man. (or vice versa, for the men who are fans of this song). It's full of longing, lust, passion, desire, and purely sexual lyrics. It's one hot song!!! ;-) How can anyone resist that? If you've ever felt this type of passion with anyone or anything, then this song pretty much sums it up. Rick has a great talent for capturing the essence of certain feelings and experiences. This song is no exception as far as I'm concerned.

I believe Rick said this song was about his wife. (But don't quote me on that.) Guessing from the time frame and when it was written, I believe that is probably true. But this was not what I thought about back in the day listening to AOTH!

Some favorite lyrics:

"Every night I am burning to make love to you." (I like how he sings that with such emotion!)

"I almost believe you were made to be played by my hands." (Well…pretty self-explanatory)

"When we make love it's a passionate thing, you shudder and shake sink your teeth in my skin." (It's great how he stretches out the word `love' here! And could he get any more descriptive than this?!)

Or what about the way he says the word "power" and you can plainly hear that sexy Aussie accent?! Well, the whole second verse here is awesome. "And you've got the power. It amazes me still. You play my emotions with consummate skill. I don't have to look any further than into your eyes." Rick was very into the woman he wrote about here. She knew how to `work him' too, `playing on his emotions.' I think there were a lot of fireworks going on between them nearly all the time. And he is plainly telling her that it IS about the physical, but that it's not all about the physical. His love runs deeper than that at this point---"it amazes me still"---and he cannot get enough of her. He is aching for her each time they are near---"Heart in my mouth, pulse in my head. Mercury rising into the red. The smell of the skin can light up all the fires in me." I'm not really sure though why Rick says, "the" skin, rather than "your" skin. Or what about the part where he's so `flustered' that he has to let her drive?! I think that is a pretty great lyric too.---"Hungry to touch, I'm eager to please. Out of control and I hand you the keys. Every night I am burning to make love to you." Mercy…what a line! ;-) Was he really that beside himself with a need for this woman? It sounds that way to me. Love/lust is a strong emotion.

I also think he desperately wants her solely to himself. I hear that in the weird sounding voice-over machine that says, "I want your heart. And I wanna touch you, and seize you, and make you mine." I like that, and I love the sound effect he used there. It sounds almost spooky, like a ghostly voice. I also think it sounds very possessive, like something Rick would say. It fits nicely into the song, I think. He has said himself that he's a very jealous person---and so much of his music mirrors that emotion.

I recently heard someone say that they thought this song might not be about a woman at all, but about Rick's love for his guitar. I can see how that might be the case, but it's not my absolute theory. We know what a love affair he has with his guitar. The line that sounds the most like this scenario to me is when he says, "I almost believe you were made to be played by my hands." Yes, Rick has masterful hands on the guitar, no doubt about that! I guess I hadn't really thought about the guitar so much until this was mentioned, but now that the thought has been planted, well…I can imagine it *might* be. Rick certainly looks like he's making love to his guitar on stage! And he also has an amazing talent for writing songs that are more than one-sided. It's very possible he was thinking of BOTH relationships when he wrote this song. Another Rick Springfield mystery that I'll probably never know the answer to! His songwriting skills are one of the many things about Rick that keeps me coming back.

This song is also incredible live, and a real crowd pleaser. I mean, how could you not enjoy watching Rick perform this song? That guitar was `made to be played by his hands.' - Kelley Pearson