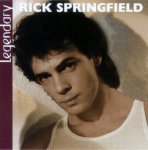 ME & JOHNNY
(words and music by Rick Springfield)

Lookin' back I'd say we broke a few rules
Left one or two hearts in a ruin
Spent all that precious time doin'
Things we figured that Presley might have done

Stole a few cars, never got caught
Started some fights in the scrimmage
We got caught up in the image
Of playing young rebels by the handbook

Looking back I guess we had some attitude
We were gonna be hard and tough

Me & Johnny
We're gonna play tonight
It's gonna be alright
We're gonna shine

Look in the mirror watch our faces change
We were gonna be McCartney clones
We skipped school to see the Rolling Stones
And sang their songs on the train on our way home

We were gonna be like all of them
Uncompromising to the very end
Live for girls, guitars and glory
And someday they'd write our story

Sometimes I think that they clapped in sympathy
But we were gonna be hard and tough

Me & Johnny
We're gonna play tonight
It's gonna be alright
We're gonna have some fun tonight
Me & Johnny
We may get blood on our face
We're gonna have our place
In the sun

Johnny's still living, back in Australia
I hear he's got himself a wife and kids
And I'm still chasing whatever it is
That put me out here on the road in the first place

I think of all the times I've cursed out loud
Wishin' I was still runnin' with the same old crowd
Sometimes it can make you cry
Just watching the years roll by

Me & Johnny
We're gonna play it tonight
It's gonna be alright
We're gonna shine
Me and Johnny
We're gonna play tonight
It's gonna be alright
We're gonna have some fun tonight
Me & Johnny
We may get blood on our face
We're gonna have our place
In the sun
Me and Johnny
We're gonna play tonight
It's gonna be alright
We're gonna have some fun tonight
Me & Johnny
We may get blood on our face
We're gonna have our place
In the sun
Me and Johnny
We're gonna play tonight
It's gonna be alright
We're gonna have some fun tonight
Me & Johnny
We may get blood on our face
We're gonna have our place
In the sun
(total playing time: 4:25)

SONG FACTS:
This song is an autobiographical account of Rick growing up with his childhood friend - John Kennedy.
It appears on the following release:
Living in Oz, Legendary, and Anthology (written in rock).
According to Rick: "Me and Johnny" is about this guy I grew up with back in Australia. We would take off school and play the guitar together in a band called the Aussie Blues, the first band I was ever in. The song is about the dreams that we had and might never be, at least for him. One line from it sums up the basic attitude of the song: "Live for girls, guitars and glory, one day they'd write our story."

We both had this dream of going to England at the time - he eventually got married, and I chased after what I wanted. And, he's very happy now, he has a couple of kids and leads a quiet life. The song is really about how fast the time goes, even when you're young. - Rock Magazine, 4/83
Footnote - the background picture is a video capture of Rick and John Kennedy
According to US
This is such a great song, musically and lyrically! What a nice glimpse into Rick's past. This song details his plans, his passion for music and some `funny' memories about his days growing up with his best friend Johnny. Did they really steal a car? LOL This song makes me feel nostalgic. (probably because Rick sounds nostalgic when he sings it). I think he was probably missing the simpler times in his life when things weren't so `complicated.'

I remember how happy, yet sad, I felt when I first heard this song. I liked how he referred to Elvis in this one. Elvis was my childhood `hero' for many years, until I discovered Rick. So it was cool for me to hear Rick mention Elvis in a song. I felt like we shared something in common! Not as if I was the ONLY Elvis fan, but it was just nice to know that Rick thought enough of him to add his last name into his song lyrics. That was super cool in my book!

My favorite verse is when he says, "We were gonna be like all of them. Uncompromising to the very end. Live for girls, guitars and glory. And someday they'd write our story." I love that! It turns out that Rick WAS uncompromising to the very end. He fought for all he's accomplished musically and nothing seemed to stand in his way. He achieved that success he so longed for, he does have `girls' at every turn (hey, he asked for it…he got it! LOL ), he is a guitar master and I personally think he's had a lot of glory. People have also written stories about him as well. So yes…he sought all of this out, and it came true for him in the end. But what about Johnny? Didn't I `hear' Rick say he still keeps in touch with Johnny who is back in Oz? I hope he too was able to fulfill some of these dreams.

Another great line---"Me and Johnny, we may get blood on our face. We're gonna have our place, in the sun." Indeed, Rick has gotten `blood' on his face many times throughout his career, (with the media rumors and the album failures, etc…) but in the `end' he did shine for those who were really willing to listen to what he had to say. He has had his place in the sun. I think this is another one of those Rick songs that shows how determined and motivated Rick was (and still is). But again, the song is also sad in a way. I can feel the pain Rick feels thinking back on his childhood. It's in his voice off and on throughout the whole song. He's missing his friend dearly and I think he would have loved to have brought Johnny along for the ride. "I think of all the times I've cursed out loud, wishin' I was still runnin' with the same old crowd. Sometimes it can make you cry. Just watchin' the years roll by." That is a really true statement and one I can connect with. I too miss my days growing up. Fortunately I had a great group of friends during my early years…and I would love to go back and find them. There is only one that I'm still in touch with to this day. She's still my best friend and it's nice to be in contact with her even now. The years DO `roll by' quickly. The aging process alone is sometimes enough to make a person cry!---"Look in the mirror, watch our faces change."

Rick was quite the rebel when he was a kid, wasn't he?! This was the first time I realized what a handful he must have been for his parents! He had his mind set on one thing, and nothing was going to stop him. Apparently it was his destiny, and he knew it. But like most of us when we get what we want, Rick still wasn't feeling satisfied. He says, "And I'm still chasing whatever it is, that put me out here on the road in the first place." At this point (or I think so…as I'm not sure when this song was actually written), Rick was having a LOT of success and attention in the media. I thought that's what he was `chasing' to start with---fame and fortune, and for his music to be heard. Again though, it hit him all at once and throughout it all…I think he still thought there must be something more. He keeps pushing and striving for more. Everything is never enough, is it?

I've always liked the Beatles and I love how Rick admits that he and Johnny wanted to be Paul McCartney clones. I know that Paul is Rick's all-time hero, so I think it's perfect he added that to the song. He had big dreams of being all the rave, just like the Beatles. As far as I'm concerned, he IS a big deal. Ok, so he is not as `popular' (or as rich!) as the Beatles and Paul, but he has certainly left his mark on society and in the world of music. That is nothing for him to hang his head about. *I* think he's better than Elvis and the Beatles, and so do many of his other fans. The way I see it, he's made a real impact in people`s lives…and to me that is a form of success.

Oh how I love that picture of Rick and Johnny when they were kids. *sigh* Too sweet! We have a very young and rebellious Rick who was full of potential and talent…just waiting to be heard and seen. Thank God his parents were smart enough to give him that chance and the choice to do what he wanted to do. It's what he NEEDED to do, I think! Can you imagine if they had blown off his wishes? Where would he be now? Would he have continued on the path he planned to take, or would he have given up on the dream? Of course, his parents played a huge role in all of this by buying Rick his first guitar when he was 13. Thank you Mr. and Mrs. Springthorpe! It's great that they had faith in Rick.

I realize from this song that Rick misses Johnny and the days when he was dreaming up what he wanted out of life, but I'm glad he's where he's at…now. Also, thank goodness for MTV and my local radio station as a child, or I may have missed the whole "Rick Springfield thing" completely. Now that would've been a shame!

Thank you Rick for this gem of a song. I wouldn't mind hearing more songs like this where he looks back on his life. - Kelley Pearson
---
I've always thought this was such a sweet song. The harmonies are beautiful, and the story behind it is so touching. Everyone has probably experienced that special kind of friendship Rick sings about in this song, where you have that best-buddy in adolescence that you do everything with. I love the references of Presley ,the Beatles and the Rolling Stones here; when Rick sings "We were gonna be McCartney clones" it's brings about a picture of young handsomeness that makes one smile. He sure could be a McCartney clone. Skipping school, stealing cars, fighting -sounds like Rick sewed some of his wild oats at a pretty early age. "Lived for girls, guitars and glory." Could be an epitaph on the tombstone of many a rock-n-roller.

This song has a few quote-worthy lines. The one that really makes me smile, after mentioning skipping school to see the Rolling Stones, they "sang their songs on the train on our way home". I love that after-show feeling, where all you want to do is live another moment in that performance. I've been known to sing a few songs on my way home at times as well.

The other line that really grabs me is, "Johnny's still living, back in Australia. I hear he's got himself a wife and kids." There's not much substance in this line, but it's the way that it's delivered that gets me. Rick's voice does a little crack in the middle of it and it adds a punch of emotion that you can almost feel. I'm not sure if it's remorse that they've lost touch or envy that Johnny has settled down, or both. The next line, "And I'm still chasing whatever it is that put me out here on the road in the first place" just sounds so perfect coming out of his mouth. There are days that I'm glad he never caught whatever that was. :-)

This is a song that I never skip, and I think it has a perfect place on the Living in Oz album. If Rick ever played my ultimate set list live, this song would definitely be included. I sort-of miss the part of the show where he "slows the tempo down just a little bit" (line from Live & Kickin'). He could bring this one back anytime. - Michelle P.
---
We all have memories of childhood friends and experiences that leave lasting impressions on us. For me, I usually think about these things when the pressures of life are overwhelming me. Maybe Rick was in this frame of mind when he wrote this song. I think he was missing how safe life is when your a kid.
As he has said, he was the black sheep of his family and had a very hard time in his school years. I think he really did steal cars and got in fights with the football players and all that. Luckily, he didn't get caught for the cars or he might have arrived in the U.S. much later if at all. Fortunately, he found something that he could focus on and that he really loved, which probably kept him out of jail.
I think it's wonderful that he still has maintained that connection to John after all these years and miles. I had a friend from childhood also until a few years ago when she passed on. It really is a treasure to have that.
This was a long song by Rick's standards - 4: 26 It's really a story and everything he included in this song really belongs there. - Elizabeth S.
---
I know I appreciate this song much more now than I did when the album was released. Back then, still having most of my life in front of me, I guess I didn't appreciate it as much as I do now, having more to look back on. It's nice to have a peek into some of the things Rick did while growing up and hearing what his hopes and dreams were with his childhood friend. Rick actually made it. How often does that happen, to have these wonderful dreams and fantasies while you are growing up and actually end up living them? I do think at the time he wrote the song, though, that he was envying his friend's life a little.