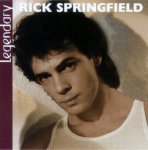 SOULS
(words and music by Rick Springfield)
It all started here, she was a girl from the mid-west
He was a stranger in a strange land
Same old story
He came for the glory
She came looking for a young man's hand

But they found bright lights
And endless nights
And men just used her innocent ways
He found it all so pretty,
hypnotized by the city
They lost sight of the reason
They lost count of the days

And they were two Souls searching for each other
One spirit looking for the other
Caught between a hard hard place and a rock

Two Souls searching for heaven
Rolling the dice looking for a seven
To the tick, tick, ticking of time
Gotta beat the clock

Too many nights on the ledge
He acquired a knife-edge
Still the city didn't acquiesce to his demands
Some nights she cried for pity in the
heart of the city
The city smacked her hands

He met her one endless night
Her eyes had a light
There was something familiar 'bout
the smell of her skin
He held her tighter and tighter
As he danced inside her
She knew from the moment that
she let him in

They'd been two Souls
searching for each other
One spirit looking for the other
Caught between a hard hard place
and a rock

Two Souls searching for heaven
Rolling the dice looking for a seven
To the tick, tick, ticking of time
Gotta beat the clock
Beat the clock
Beat the clock
Beat the clock

Two Souls searching for each other
One spirit looking for the other
Caught between a hard hard place and a rock

Two Souls searching for heaven
Rolling the dice looking for a seven
To the tick, tick, ticking of time
Gotta beat the clock
Two Souls searching for each other
One spirit looking for the other
Caught between a hard hard place and a rock

Two Souls searching for heaven
Rolling the dice looking for a seven
To the tick, tick, ticking of time
Gotta beat the clock

(total playing time: 4:05)
SONG FACTS:
Rick performed this song live on the video
performance of Beat of the Live Drum.
After 9/11/01, Rick performed this song in
concert and dedicated it to Marni O'Doherty,
a Rick Springfield fan who lost her life in the
attack of the World Trade Center. This was
her favorite song.
It appears on the following releases:
Living In Oz, Best of, Best of Rick Springfield,
Calling All Girls - Romantic Collection, Behind
the Music: Rick Springfield Collection, Encore
Collection, The Best of Rick Springfield (Japan), Legendary, Platinum & Gold, and Anthology (written in rock).
---
acquiesce - to accept, comply, or submit without open opposition, consent, agree
According to Rick: Obviously it's autobiographical. It's a thing I believe, I think I believe in reincarnation, the jury's still out on that. One of the things I think is that the same souls travel with the same souls through the different lives. I've met people that I've just known before and I felt that, and this is the story of one them. - Hot Ones Radio Show, 1984.
"Souls," which is basically about me coming from Australia and meeting someone here. It's about my goals and my dreams, and about finding somebody so special that when you meet them, you know there's something there.- Rock Magazine, 4/83
"Souls," speaks of my belief that we are all part of one spirit, and that we all go back to one spirit. I firmly believe that we have several shots at perfecting or letting perfection come through on our life, and to whatever extent we don't let this perfection happen, it doesn't happen - Rock Magazine, 4/83
According to US
This is the song that does it for me. Period. Someone asked me once, "If you could have Rick sing you one of his songs, which would it be?" My answer without hesitation was, Souls. Then she wanted to know how I could pick just one, and how did I know it was that song? (She screamed, "You didn't even have to think about it!) If I were stranded on a deserted island with just one Rick song, I'd want it to be this one. If I had to make a death-bed request it'd be to hear this song live, just one more time. Get my drift? This is my #1 of my all-time favorite RS songs. I've stopped wondering or questioning myself why. It just is.

To me, this is the ultimate love story. I am totally into the whole -your soul goes to heaven when you die- and -you are destined to have one "soul mate". Call me sappy or whatever, and my husband doesn't believe it, but I do. I believed it way back then, when LIO came out. To say that I was thrilled to hear Rick write/sing about it was an understatement.

When I first heard this song, on my first play through when I brought the LIO album home, this was the song that I immediately repeated - I had to hear it again! Now! That door slam shutting out the noisy world....the audible exhale from Rick... (Which I believe started me on an loving of all Rick songs on which he *breathes*.) I could totally place myself in this song too... "It all started here, she was a girl from the Midwest" Hey, that was me! I'm a Midwestern girl. I must admit that I then hauled out my Webster's Dictionary (yet again) to look up "acquiesce". I had no idea what he was saying. I could identify with the second stanza "But they found bright lights, endless nights, and men just used her innocent ways. He found it all so pretty hypnotized by the city - they lost sight of the reason, they lost the count of the days." Ok, again a little back history on my teenage years. I had this dream that I was going to be a MTV VJ - that was my goal in life because I thought that was coolest job you could have. I was so the "Entertainment Tonight" reporter of my high school, I reported the entertainment news on the school paper - yadda yadda - my friends still call me to gossip about celebrities. I still keep up with all that "stuff". <grinning sheepishly here> I so wanted the girl in this song to be me (even though I knew it wasn't - and back in '83 I didn't even know Barbara existed). I wanted to be caught up in the bright lights, and probably lose sight of the reason why I was there. I think Rick was expressing his feelings of finally arriving on the music charts, and totally sucking up all the attention, and losing sight of why he wanted to be a musician in the first place.

Of course, the chorus "They were two souls searching for each other, one spirit looking for the other" makes me want to sigh. Like some higher power had a hand in bringing them together. Makes me giddy. I actually wrote the phrase "One spirit looking for the other" in calligraphy in my art class really classy like with music notes all around it, and had it hanging in my locker for years. (another geeky thing I do - I write down quotes that I like to keep, so my husband is always finding these scrap pieces of paper everywhere with things on it that he has no idea what the heck I'm talking about.) Imagine my thrill when I saw this in the video! I swear - I did it first! I still have that piece of parchment, yellowed and ancient looking now.

"He met her one endless night..." Oooh, another sigh here - this whole stanza gives me goosebumps - makes me think Rick was letting us in on his and his wife's "first time" eh? I can remember my girlfriends being grossed out by the "...as he danced inside her" - I just thought that was that it was a pretty mature way of saying "screwing". (still a teenager here!) "She knew from the moment she let him in -they were two souls searching for each other". I'm thinking he's talking about that they fell in love from that first time, because I'm a good girl, and good girls don't sleep with guys they don't love, right? (yep, still that innocent teen)

Still with me? Good.

Live. Seeing this song done live the first time practically made me pee my pants. I agree with the others who have said Rick really puts more emotion into the live version of this. I am so the happy camper when he does this live. Really & truly...woo hoo's come out of me that I didn't know I had in me. And to see him writhe around on the stage (a'la BOTLD)...ahem... man, I'm getting all hot and bothered just thinking about it. I was in the fan club back then too, and I remember an issue where they asked the band which song they liked to perform live, and most of them replied -Souls. Three cheers for the band members!

Flash forward 20 (yikes!) years...This song is still my favorite. I don't think Rick will ever write another that will take it's place in my heart, but I will never say never about this amazing songwriter. Now I'm married to (what I believe) is my soul mate. My only beef to the powers that be - HE'S NOT A RICK FAN but hey, I guess one Rick nut per couple is plenty. It seems like everyday in our lives we are "searching for heaven, rolling the dice looking for the seven" and that darn ticking clock! I never have enough time in the day for the things that I want to do, always "Gotta beat the clock".

Now most people I know think love songs are ballads. That's another talent of this man. I love the fact that he poured his heart and soul (ha-ha pun intended) into a song that rocks! Give me a man who can rock and tell me he loves me any day over some Barry Manilow type. (Disclaimer: that was NOT a Barry slam. I can sing along with Barry songs with the rest of the fanilows, thank you very much.) - Michelle P.
---
I love how this song starts with a dog barking,sirens and then the shutting of a door and a sigh.I think he's saying this love is so real and so deep that it shuts out the world and all it's problems.They were destined to be together. It is his refuge.His escape. What a sweet and perfect love song. Throughout the song the clock is referenced-"Gotta beat the clock". He was very busy at this point in his career and struggling to find time to maintain a relationship.He sings of their struggles alone without each other,how he became a little bit hardened from his experiences. I think this is such a romantic song,the whole idea of two souls searching for each other and finally coming together. - Elizabeth S.
---
Oh My God! This song is just right up there in my top 5 fave Rick songs! It has always and forever will be so totally awesome to me. I could listen to it endlessly and never tire of it. First of all, any man who can write a song about the woman he loves and put so much desire and passion into it, has my heart forever. If I had never heard of Rick or his music and I listened to this song, I would be in love instantly. Granted, as a young girl, I didn't get much of it back then, but really listening to it now, I am just blown away by it and I will always consider this song one that really 'opened my eyes' to love and sex, and all that comes with adult relationships. I can't really say much more without getting repetitive, but I really believe this one could have been a number one, grammy winning, never forget Rick Springfield song. - Amy L.
---
I absolutely LOVE how the end of Tiger by the Tail and the beginning of Souls blend together when playing the CD all the way through (makes it a bit annoying if you split up the songs on a mixed disc though!). But I like it this way. (SDAA has some of this technique as well). Then immediately after Souls there's the `next chapter' in his LIO story, when the ending for "Souls" fades right into the sad and tortured "I Can't Stop Hurting You." It's intriguing to me how he arranged the song order on this collection. I think with the way Rick merged some of the songs on LIO, it gives it more of a story-telling affect, like chapters in one's life. It's as if all the songs are a part of each other, a puzzle piece of what was going on in his life and mind at that time. So much of what I've found here reflects on certain areas of my own life---now and in the past. The album setup is kind of like reading a book and you flip over to a new chapter and the reading is practically uninterrupted. Your eyes keep right on traveling over the page as if there was never a page to turn, but you actually changed chapters. It's engrossing. It is supposed to mesh together to make a whole, I think. The sound effect he used here was great too, and fitting for this song. There's city sounds, traffic noises, and then suddenly the sound of a door shutting and the outside world is gone. We hear a *sigh* from Rick, and then the music starts in…

Ok, with all of that being said about the opening and blending of the songs…I'm onto the main point. This is one AWESOME song! I absolutely love this track and hold it very near and dear to my heart. It's Rick Springfield the genius storyteller at work once again. He is a master at this type of song. It was very obvious to me from the first time I heard Souls that this was about something that happened (or was happening) to him personally. I just didn't know *who* the song was about. He was/is a pro at keeping his private life very much private. But I knew it was about him. There is too much passion and feeling in this song for it not to be. I get so nostalgic when I hear this song, and I also feel a sense of satisfaction now when I hear it, one I didn't feel then. Ahhh….the many days I would lie around listening to this song over and over and over, hoping that someday I too would find my

soul mate. (And that I did!) But before that day has come, one can only wish and dream…and hope for someone you truly connect with. This song is a perfect example of what I wanted it to be like. My story & Rick's story are different, detail wise, but I feel the end result was the same.

I like how he starts the lyrics with simply, "It all started here." It gives you a beginning to his tale. "She was a girl from the Midwest. He was a stranger in a strange land." As I now know…his wife, (then girlfriend) IS from the Midwest, and of course we know he's from Oz. Rick has said that he often felt alone in the big USA and a bit lost here at first. But I also remember hearing him say he felt dazzled by America. "Same old story, he came for the glory. She came looking for a young man's hand." This is a beautiful part to me, as he first sounds like he's telling you a secret. His voice is a bit low key and breathy in the first verse and then suddenly the music and everything take off, full force after he stretches out the word "haaaand." "But they found bright lights, and endless nights. And men just used her innocent ways. He found it all so pretty, hypnotized by the city. They lost sight of the reason, they lost count of the days." Sometimes life can feel long when you don't have that special someone, but when you're having fun and you're swept away, the time can go quickly. I love the beat in this song. Something about the underlying beat & rhythm reminds me of AOTH. It's like a rockin' love song/ballad to me. I think Rick's songwriting method of mixing in religious imagery appears with the 'searching for heaven' line, and also ---"Two souls searching for each other. One spirit looking for the other." He makes it sound like the ultimate search…finding that true love.

Hands down, one of the best Rick lines in Rick history, in my opinion. "Too many nights on the edge, he acquired a knife's edge. Still the city didn't acquiesce to his demands. Some nights she cried for pity in the heart of the city. The city smacked her hands." Acquiesce? Only Rick would squeeze such a word into a song! LOL I adore the echoing affect when he sings "heart." It adds to the raw emotion of the song. The `knife edge' part reminds me of another Rick song. Doesn't he use that phrase in one of the songs from Tao? I think there may have been a lot of emotional turmoil going on with Rick when he wrote this song…maybe a need to keep pushing ahead on his path (maybe he was still not satisfied with his career and felt there was more to be had) despite the sacrifices he was having to make in their relationship. He thought that once he got to America, his rock star path would be easier than this. He thought the `city' would just take him in and he could have his way…that things would be peachy. I think he found out differently and found he had to fight for what he wanted. I also believe he was falling madly in love with her at this point, realizing she was *the one.* The business world and what it involved for him got the best of her as well---"the city smacked her hands." Or maybe this was taken from an experience of hers. It makes me wonder, as his songs always do.

Sometimes I think we just know if someone is meant for us to be with…there is something about that person. He says,"He met her one endless night. Her eyes had a light." There was something familiar `bout the smell of her skin." Physical chemistry? Then we have another line I consider a classic and a super hot lyric---"He held her tighter and tighter as he danced inside her. She knew from the moment that she let him in." Wow! Is that man into visuals or WHAT?! I love how Rick uses the word `dance' so often to describe lovemaking/sex. Nice comparison there Rick! It definitely makes for better imagery than just saying `made love.'

It's clever how Rick wrote the chorus with the gambling edge to it and referred to the lucky number 7. Life and love can be a gamble. Sometimes you have to rely on faith or luck to pull you through. You have to follow your heart at times, even if your head is not sure. Or maybe fate & destiny? "Two souls searching for heaven, rolling the dice, lookin' for a seven." I think the `hard hard place in a rock' was his tug-of-war between his commitment to himself with music and his wanting to make a commitment to her as well. I think it would be very difficult to balance out the two things in the midst of that type of success. I also believe it literally does take soul mates, true love and friendship to make it through after all these years in show business and still have a marriage.

For some reason, Rick felt he was on a time clock. He uses references with the `"tick tick ticking of time gotta beat the clock.'" Then later in the song he`s still obsessing over a time problem with the repeating of `beat the clock.' As if their love was urgent, but there was all this other stuff going on…mainly with Rick & his hectic career. And maybe he felt he was running out of time…that their love wouldn't wait.

Souls has an interesting ending. We get a cool fading-out guitar solo, as it drifts `mysteriously' into another song---a song that is on the flip side of this one. I almost feel that Rick was making a point by blending the two songs here. He expresses the need for love and passion and possibly commitment in Souls, then he moves on to the darker side of love with "I Can't Stop Hurting You." It's kind of harsh in a way, but it's also a reality.

I saw this song live this year, for the first time since back in the 80's when I went for the LIO tour. What an amazing surprise! It was just as moving seeing him perform it live as it is hearing the beloved studio version. -
Kelley Pearson