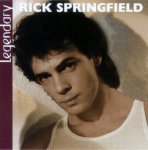 I CAN'T STOP HURTING YOU
(words and music by Rick Springfield)
She looked at me with eyes that cut right through me and said
"You must be blind
let me tell you a little something about yourself
You're the hurtin' kind"
I must admit after the pain and fight
I've a sneaking suspicion that you might be right

I love you, I love you, I love you
But I Can't Stop Hurting You
I want to, I want to
I Can't Stop Hurting You
I can't, I can't
I Can't Stop Hurting You, it's getting bad
I don't know what to do

I see you packing up all your precious little things
That mean so much to you
I hurt you now you're moving out again
But we know just what you'll do
We'll see the error of our ways in crime
With conciliatory promises we'll change this time

I love you, I love you, I love you
I Can't Stop Hurting You
I want to, I want to
I Can't Stop Hurting You
I can't, I can't
I Can't Stop Hurting You, it's getting bad
I don't know what to do

I love you, I love you
I Can't Stop Hurting You
I need to, I need to
I Can't Stop Hurting You
I can't, I can't
I Can't Stop Hurting You
It's getting bad, I don't know what to do

And when you go I miss you all night
The wounds heal from the scratch and bite
I don't know what's wrong
I don't know what to right
But I Can't Stop Hurting You
I Can't Stop Hurting You

We talk so coolly about the pros and cons
When I get hot headed I just can't hold on

I love you, I love you, I love you
I can't stop hurting you
I want to, I want to
I can't stop hurting you
I can't, I can't
I can't stop hurting you
It's getting bad, I don't know what to do
I love you, I love you, I love you
I can't stop hurting you
I need to, I need to
I can't stop hurting you
I can't, I can't
I can't stop hurting you
It's getting bad, I don't know what to do
I love you, I love you, I love you
I can't stop hurting you
I want to, I want to
I can't stop hurting you
I can't, I can't
I can't stop hurting you
It's getting bad, I don't know what to do......

(total playing time: 3:30)
SONG FACTS:
This song appears on Living in Oz and Legendary.
According to US
There are many, many reasons why I love the LIO album so. I've documented a lot of them in the reviews I've done so far. Every song spoke to a certain part of me, and this song in particular really drew me in. This was the first RS song that I had the -How does he know?- connection a lot of people say they get from his music. It wasn't until after this album was released that I began to delve more into his career and seek out his earlier music. So as he wrote years before with "Child Within" and "What Would the Children Think" --two subjects that are serious, yet sound as if Rick had experience with first-hand, ICSHY makes me wonder from what depths this song arose from.

As you may or may not know, I am the child of an alcoholic. My father is a Vietnam Veteran and he came home from that war a changed man. He was wounded in action, and is still disabled to this day. To deal with his pain, both emotional and physical, he drank. Now before anyone starts picturing a home full of despair, let me say it wasn't really all that bad. My Dad was a functioning drunk. Some would call him a happy drunk, he was in a much better mood when he drank really. He would go to work sober, but then come home in the evening and drink himself into a stupor. A lot of people outside of our immediate family had no idea. Some still don't. However, a few years before 1983 (I'm using this year of LIO's release as a reference point) the drinking got worse, the arguing between my parents increased, and I needed someone to understand. My Mom had the church, for which she tried to pull my younger brothers and I in for support as well. We went to Al-Anon meetings, and attended youth groups, but it just wasn't doing it for me. My Dad went from job to job, unable to hold on to one once he'd show up too obliterated to work. My Mom had to keep going from part-time job to part-time job as well, to keep us fed and clothed. She'd lose her job when he would do something stupid and she would have to call-in or leave early. Being the eldest, I took care of the younger ones. Just one more thing for me to be angry about, when all I wanted was to be with my friends having fun.

"She looked at me with eyes that cut right through me and said, "You must be blind. Let me tell you a little something about yourself you're the hurting kind." This would be my Mother, yelling at my Father. A statement like this usually came out of her mouth when she thought we were out of earshot, or in bed for the night.

"I love you, I love you, I love you, but I can't stop hurting you" My Dad's reply.
"It's getting bad, I don't know what to do."

My Mom would get fed up, and pack us up. We'd come home from school and there would be our things and she'd say, "Let's go." So we'd go to Grandma's, or a motel. But we always came back. "I see you packing up all your precious little things that mean so much to you. I hurt you now you're moving out again, but we know just what you'll do. We'll see the error of our ways in crime with conciliatory promises we'll change this time." This is what made me angry. She always took him back. I wasn't so forgiving. Sometimes she'd have his stuff packed up for when he'd come home. He'd go away for a few days or weeks; come back swearing he was sober. All would be good for a while, then the pattern would begin again.

I would play this song over and over. Sometimes louder and louder. I got into the habit of putting headphones on when I went to bed, in my cassette walkman (with those huge -compared to nowadays- headphones, how did I sleep?) and would listen to LIO every night. I really thought this time in my life would never end, and things would never get better.

Of course, they did. :-) I am so grateful that this album came to me at the time that I needed it. I told Rick that exact sentence the first time that I met him. That was all that I could get out, as I started to get choked up when I looked at him. I got all blubbery after that, and skipped right into how I named my daughter Alyson and asked him to sign the CD to her. Then I went back to how this was my absolute favorite CD of his...and I was surely sounding like some incoherent female at that point. So Rick did his typical touchy-feely moves and started rubbing my shoulder, and I never did get the chance to tell him any more than that. So here it is, now. Thank you Rick. - Michelle P.

---
Again...another very favorite Rick Springfield song for me. This is such an emotionally raw, painful and yet wonderful song. My parents were going through a divorce when LIO came out, so I always identified this song with all the emotions that were flowing through our house at the time.

Now as an adult I can see this song through the eyes of a mature (well.....it is all relative) person and I see more depth in it...but the pain is still there. "I don't know what's wrong...I don't know what to right" is such a profound sentence that conveys the helplessness of it all. I also always loved..."I see you packing up all your precious little things that mean so much to you".....I felt like I was literally IN THE HOUSE watching this woman pack her belongings. In my head I always link this song with "Stranger In The House" from Tao….I wondered if he was writing about the same couple in both songs? I really love his songwriting, the pictures he paints are so vivid. - Tina W.
---
I love this song and hate it at the same time. It conjures up memories of an abusive relationship I was in. I can just picture him saying all these things if he had been wordy enough to think of them. I want to answer, "Why can't you stop hurting me?" I want to scream it. It didn't matter.
Rick is crying out in this song. He doesn't know why he keeps hurting this person but wants to stop. Her eyes cut right through him. It's like that if you love someone. I think it hurts worse to be the victim. - Elizabeth S.
---
The song starts out with this serene music which sounds to me like keyboards…then something that reminds me of a flute. (but I'm not sure if that is a real flute or the synthesizers creating that sound.) It has a sadness about it. I like how it fades in from the end of Souls…like the next chapter in his story, or even the flip side of Souls…as if to say that things are not always 'peachy keen,' even with your soul mate. Suddenly the music goes into an almost angry beat, working up to the start of the first verse. This song makes me want to cry, even now. It's so painful and full of raw emotion. It's one of those tug-o-wars where I don't know if I'm `pulling' for him or her in this song. I suppose it pains me for Rick, because I believe he's got a heart of gold & a beautiful soul. He KNEW he was messing up and knew he was hurting her…and it's like he couldn't make himself stop (but desperately wanted to). He also knew he loved this woman. I suspect this song is about trust issues, and also being at the point in a relationship where `enough is enough.' I think so many of us have been there at some point in time.

I think the thing that really snags me in with this song is the pure anguish in Rick's voice and how it almost 'cracks' at points. It kills me, but I love hearing it anyway! Rick has so many songs that are chock full of vocal emotion, but I think this is one of the `top' ones in his collection. I can feel his pain in these words!

I've heard Rick say that his marriage has been `volatile,' and I feel this song is one of many of Rick's songs that is living proof. Rick even says in one line that he has a hot temper that comes out & one he can't seem to control---"We talk so cooly about the pros and cons, when I get hot-headed I just can't hold on." I really wouldn't want to be the one on the receiving end of his anger.

My favorite line in this song is when he says, "She looked at me with eyes that cut right through me and said…you must be blind. Let me tell you a little something about yourself…you're the hurting kind." How many times have *we* had someone look at us that way…with eyes that cut through your soul, in a moment of hurt or anger, leaving us feeling guilty and exposed? And then he says it`s probably true---"I must admit after the pain and fight, I've a sneakin' suspicion that you might be right." For some reason, the opening lyrics are powerful to me. They set the stage for what's to come. You know right away this song is full of heartache and disappointment. In a weird kind of way…this song was comforting to me as a teen when I first became familiar with it. I think it gave me an `inside' look at the fact that Rick was NOT this perfect man I first thought he was, that he was just as human as we were, and that he made some serious mistakes just like the rest of us. It's also a great song when you're feeling blue (like how I'll put on the saddest & most heart-wrenching music I have when I'm feeling down, sort of like `wallowing' in your own misery…but with someone else `by my side' who obviously knew how it felt!) It's `medicating' in a way. It reminds me of Wayne Brady that time on his show telling Rick that his pain brings us great rock and roll. It's sad, but it couldn't be more true!

Do I detect a tiny bit of sarcasm in the second verse? "I see you packing up all your precious little things…that mean so much to you. I hurt you, now you're moving out again." Maybe this was his way of saying he felt that her `things' meant more to her (were more `precious' to her) than him? But it could be that she was one to over-dramatize the `little things' and pull out the `I'm-leaving-again' card every time things didn't go quite her way. I really don't know. As most of us realize though, there are definitely two sides to every story and argument. The next line is good too and so common in relationships of people who are fighting to stay together--"I hurt you now you're moving out again. But we know just what you'll do. We'll see the errors of our ways in crime. With conciliatory promises we'll change this time." Isn't this usually the notion? After the heat cools down from the actual fight…you begin to remember the good things & all that is right about keeping the relationship going. We make promises to `do better,' but that only scratches the surface of the real problems at hand. The promise to `change this time' is often a hard one to keep if there are deeper issues going on. Both people certainly need to be on the same page where they can work together to repair the damage.

Back to the emotions that happen after the initial heated argument (which by the way, this whole song pretty much paints a picture in my mind of Rick & his girl having a knock down drag out fight in which both ended up feeling wounded and rejected): Rick says, "When you go I miss you all night. The wounds heal from the scratch and bite. I don't know what's wrong I don't know what to right. But I can't stop hurting you. I can't stop hurting you." So despite the ugly words & the emotional wounds they caused, he's missing her terribly. He obviously wanted to `right' things, but he sounds desperate, as if he hasn't a clue what to do to make her happy. I also love the nature of the guitars here, which add to the feeling of his sadness. They're almost `frenzied' though, much like how one might feel in such a situation, not knowing where to turn or how to make things better before it's really too late.

As sad as this song is…I will always love it. I almost hate to say that I `love' a song Rick song that is full of so much pain, but it's the truth. His pain really does bring out some intense songwriting & a sense of healing. It's a universal theme that I think most people can relate to. - Kelley Pearson