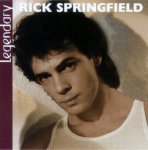 TIGER BY THE TAIL
(words and music by Rick Springfield)
What a shock it was so surprising
You looked so small and frail
I didn't know what to do
I grabbed the Tiger By The Tail
I grabbed the Tiger By The Tail
I grabbed the Tiger By The Tail

People said that you must be joking
You let emotions run away with you
I realized a little too late
I bit off more than I could chew

I grabbed the Tiger By The Tail
I grabbed the Tiger By The Tail
Sometimes you grip it right
And sometimes you fail
I grabbed the Tiger By The Tail

I grabbed the Tiger By The Tail
I grabbed the Tiger By The Tail

At times life can be so enlightening
But it can turn on you
Lately it's been so complicated that
I don't know what the tiger will do

I grabbed the Tiger By The Tail
I grabbed the Tiger By The Tail

Sometimes you grip it right
And sometimes you fail
I grabbed the Tiger By The Tail

I grabbed the Tiger By The Tail
I grabbed the Tiger By The Tail

Sometimes you grip it right
And sometimes you fail
I grabbed the Tiger By The Tail
I grabbed the Tiger By The Tail
I grabbed the Tiger By The Tail
Sometimes you grip it right ....

(total playing time: 3:30)

SONG FACTS:
This song appears on Living in Oz and Legendary.
Rick performed this live during the 1983 tour.

According to US
It's kind of hard to tell whether this song is about a relationship or a decision that Rick made. At any rate whatever happened was not what he expected and obviously a bit of a shock. Usually when using
the phrase "I've got the Tiger by the tail", You would be stating that you had control of something. I think he thought that he did ,but found out different. This song came out during a time when he was very busy with his career, trying to maintain a relationship and have time to himself. He was probably under a lot of stress. I'm sure he felt many times that his life was out of his control. I love the way he sang this song. His vocal is great and demonstrates strength and variety in his voice. I hear a very strong Jamaican influence here. Great guitar work on this song. I like the deep voice that comes in on this song occasionally. Rick's voice electronically altered? Maybe. One of my favorites off this album. - Elizabeth S.

---
First, my apologies if anyone is offended by my thoughts on this one. That's not my intent. Honestly, if you could see that I couldn't even type this one without grinning, you'd know that I mean it all in fun, and (teenage) stupidity.

Sticking to the theme of sexual innuendo, I'm moving on from Motel Eyes to TbtT in that they were written with the same thoughts in mind. Basically that Rick may have turned down the 'ho in the last song, but then he had to go home alone and work out some of that pent-up sexual tension.

Once that idea popped into my head years ago, I have a hard time taking this song seriously. The idea being that Rick is talking about self-gratification by taking the tiger by the tail. Or in other words, masturbation.

"What a shock it was so surprising, you looked so small and frail. I didn't know what to do, I grabbed the tiger by the tail" Ahem. I know a tail is on the 'wrong side', but I'm thinking figuratively here. Another argument is that I'm female, and I don't have that body part. If I did, I might refer to it as a tiger though. :-) I think I came up with this idea because Rick keeps saying over and over again in this song, "sometimes you grip it right..." It's that word 'grip'. It bugs me. I keep wondering why you have to grip it right. So in-between gripping it right...he's singing, "I grabbed the tiger by the tail." He just does that a LOT in this song, doesn't he? The reggae beat (and I hesitate to use the term beat here) just emphasizes the thought to me as well.

The thought that the end of this song blends in to the beginning of Souls just kills me. - Michelle P
---
I hope that I don't offend people with the fact that, I REALLY disliked this song. I still do. The adult in me can admit that fact now with only a tinge of guilt. The teenaged must-love-every-single-thing-Rick-Springfield-ever-wrote part of me could not bear that I did not love every inch of LIO……so I would listen to this one, never fast forwarding the tape. My own form of punishment? Hoping for forgiveness? Not sure. I dislike the reggae beat, it kind of reminds me now what Rick did to My Depression on SDAA……I really don't like that version at all, I much preferred the more raw sounding "underground" version we all were used to.

I thought this was about that lucky woman in his life…I thought she was the "Tiger" and she was feisty and he was having a hard time predicting what her next move would be. Then later of course we learned that he was dating his wife during this time and how sometimes they can have a passionate relationship, so the tie in still made sense to me.

Whether it is his love interest, his penis or that dang reggae beat……he has trouble controlling something hereJ That is all I am sure of when I listen to this song. - Tina W.
---
Tiger by the Tail is a quirky, upbeat little tune with some interesting sound affects & a message to it. It's short but sweet. I have heard quite a few fans say that this is their least favorite song by Rick, but it's not my least favorite at all. Ok, it's honestly not one I'm dying to hear on a regular basis, but I never skip it when it comes on. I think it blends well (strangely enough) into the whole `theme' of the Living In Oz collection. It's just a part of it, and without the song, the `album' would not be the same for me. It's almost like a gentle reminder to watch out for what life can throw your way.

I think this song says something about the frame of mind he was in around this time period in his life and career. When I hear the expression, "I grabbed the tiger by the tail" I immediately think of someone who is going after something they want, even if they know there could be serious repercussions for their actions. But sometimes you really DO need to `grab the tiger by the tail' and just go with it. There isn't much to be achieved in life if we don't take chances. I would say that Rick definitely took the plunge, going head first into the world of music. He was whipping out hit after hit for many years, working a very grueling schedule. He had a LOT on his plate, and it all came so suddenly. (well, after his years of having very little success, that is!)

I like how the song immediately starts off with a laugh from Rick---"ha ha ha"---which almost has the sound of "I told you so." It's a perfect opener for this one. Then it goes right into it---"What a shock it was so surprising. You look so small and frail. I didn't know what to do-o-o. I grabbed the tiger by the tail." There's a really wild- sounding deep-voice affect going on here when he says `tiger by the tail.' It sounds almost warped when he says it. I'm not sure who the "you" is in "you looked so small and frail." (his wife maybe?) Or maybe he was looking in the mirror at himself and thought he looked run down and overly exhausted. That one I'm not too sure about.

Despite a few lines or words here and there, I think this song is pretty self-explanatory. "People said, `you must be joking. You let emotions run away with you.' I realized a little too late. I bit off more than I could chew." My guess is that he had too many irons in the fire at this point in his career and love life. Apparently those around him could see that he was in over his head as well. It's easy to do. Life can get away from you sometimes.

The music has a catchy, funky beat going on and a pretty good little guitar solo about midway. I also like the "ahhh" type sigh from Rick right as the instrumental break begins. Then there's more of that weird spooky voice thing again…but now it's an evil-type laughter and a "yeahhh" about halfway through the break. Cool!

I really like the verse that says, "At times life can be so enlightening. But it can turn on you. Lately it gets so complicated I…I don't know what a tiger will do." I think Rick is using a tiger as a comparison to his career struggles & obstacles. Yes, life really can be enlightening at times, but when you least expect it, it will bite you in the butt, just when you think things are finally going your way. My guess is that Rick had so many people pulling him from a hundred directions and things did become `complicated.' He didn't know if the `tiger' (life lessons/consequences) would turn and bite him. As he says, "Sometimes you grip it right & sometimes you fail. I grabbed the tiger by the tail." He grabbed the tiger's tail alright! Sometimes we do have a `grip' or a hold on things in our life, and then other times everything will spin out of control if we don't watch the choices we make. Rick was quite aware of this, from what I can gather in this song.

I think that the song is simple, but I also think it must have had some importance for him (obviously, as he included it on a very deep and personal album). But simplicity doesn't mean there is no message to be had. The song has a good 'lesson' in my opinion, and it has a fun, almost playful beat and lyrics that are easy to sing along with. Tiger by the Tail will remain in play within my Rick collection for many years to come! I cannot choose to play LIO and then skip this track. Something about that just wouldn't feel right to me! -
Kelley Pearson