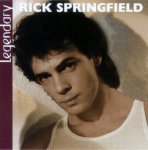 ONE REASON (TO BELIEVE)
(Lyrics and Music by Rick Springfield)

Lighting candles in the church of my choice
Loving strangers in the dark
Looking for someone to give me what I lack
Searching for something 'til you showed me
The gun in my back

I'm human and I need it
I must have my beliefs
I open myself to the love - yea
I love you 'cause you showed me
A merciful release
I'm living this time and I know
You gave me the reason

One reason, to believe
One reason, you're the one
One reason, to Believe
One reason, my baby
One reason, it's all I need
One reason, to believe
One reason, my baby
One reason

Trying to get faith from the eight fifty paperbacks
Hoping they'll show me the way
The way to what
Man in a crisis
A young girl in his bed
She's trying to help him when she tells him
It's all in his head

I'm human and I need it
I must have my beliefs
I open myself to the love - yea
I love you 'cause you showed me
A merciful release
I'm living this time and I know
You gave me the reason

One reason, to believe
One reason, you're the one
One reason, one reason
One reason, my baby
One reason, it's all I need
One reason, to believe
One reason, my baby
One reason

I bow to the East
Or I kneel to the West
It's a matter of faith
I'm the only one who has to believe it

One reason, to believe
One reason, you're the one
One reason, to believe
One reason, my baby
One reason, it's all I need
One reason, to believe
One reason, my baby
One reason

One reason
One reason
One reason
One reason

I bow to the East
Or I kneel to the West
It's a matter of faith
I'm the only one who has to believe it

One reason, to believe
One reason, you're the one
One reason, one reason
One reason, my baby
One reason, to believe
One reason, to believe
One reason, to believe
One reason
Just give me one
One reason
One reason
One reason, to believe
One reason, it's all I need

One reason, my baby
One reason, my baby
One reason, my baby

One reason
You are the reason
One reason

(total playing time 4:03)
Song Facts: This appears on Rock of Life and Legendary.
According to US
I've been struggling with this review for about two weeks. Today I decided what the heck, I'm just going with what I've got here...this song is practically haunting me for some reason, so I need to set it free. I probably should use other's rule of thumb and not read anything about the song until I've said what I feel, because after I did read other's thoughts, it muddled my brain even more. So here goes:

In a nutshell, I always considered this to be another relationship song. Rick was tired of playing the dating game, and really wanted something concrete, a lasting relationship. He finally found that someone who lead him to believe that what he was searching for was real.

"Lighting candles in the church of my choice" I think is a double meaning statement. There is the obvious catholic reference of lighting a candle at church when you are praying for someone or something. I always interpreted it as Rick meaning he was, ahem, "leaving his deposit" (ok- you figure that out, I was trying to say it nicely and that was the best I could come up with) with different women of his choosing. Hence the next line, "loving strangers in the dark". The next part, "searching for something 'til you showed me the gun in my back" meaning he thought this woman was being sincere, but really she had him fooled. I still don't see this relating to Liam being born, and try as I might to wrap my brain around that...it wants to think the religious and/or sexual reference fits better here. ESPECIALLY when Rick gets into the next verse and he's saying, "I'm human and I need it, and I must have my beliefs, I open myself to the love". Again, religion or sex. I've deleted what I originally wrote about what I thought a merciful release was also. This review is starting to sound like I'm (or Rick is) sex starved. Really, I'm not :-)

And just to drive this point in a little bit further, after the chorus there he is again talking about sex. "Man in a crisis, a young girl in his bed. She's trying to help him when she tells him it's all in his head". C'mon people, I'm not sure this has anything to do with Liam...please convince me otherwise! If this is anything other than sex, than I AM obviously sex starved.

I do love the message that Rick is trying to make that it only takes one reason to believe in someone. Or disbelieve. I know I always try to think the better of people and give them the benefit of the doubt, so it would only take one thing, one incident, one rumor, one anything to make me believe what they want me to believe about them. On the other hand, it only takes one thing, one incident, one rumor, one anything to reach disbelief. I'm so wishy-washy, but "I'm the only one who has to believe it", right?

Ok, back to the song....
"I bow to the East or I kneel to the West, it's a matter of faith". That's gotta be an obvious religious reference. Gotta be. The same with "Trying to get faith from the $8.50 paperbacks (which bookstore was Rick visiting in '85? Damn expensive one, that's for sure) hoping they'll show me the way".

In closing, (I feel like I've just crossed over here and made this a term paper) I'm still sticking with my original ideas that this is about sex or religion. Or both. Of course, it seems to me this man is always writing about one or the other. :-) - Michelle P.

---
Things seem to be coming together for Rick at this point in his life. He's finally found a spirituality that brings him some peace, he's taken a break, he's gone through some major therapy, and seems to be on the way to finding the happiness he's been searching for. All the success and fame that he thought would fill that void, didn't seem to, but the birth of his first child seemed to be the turning point for him. I don't know if I had read or heard somewhere that this song was about Liam (before the posts from last week), or if that's what I figured out on my own, but over the last month while listening to this song again, that's what I was getting out of it. When he says the line "my baby", I took it literally to mean his baby.
I really like the production of the part where the background sings go "way to what?"
One thing I find really interesting is this song is written in the first person except for :

Man in a crisis
A young girl in his bed
She's trying to help him when she tells him
It's all in his head

Which is written in the 3rd person. He's always said that most of his demons have always been in his head, so it seems autobiographical, but maybe he didn't want to be quite so open about that part.

And this is such a powerful thought:
I'm the only one who has to believe it

He found something that has meaning to him, and that is all that matters. (kind of has an EFX kind of feeling to it - "as long as you believe") - rlh