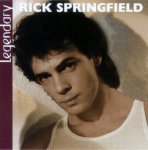 DANCE THIS WORLD AWAY
(Lyrics by Rick Springfield / Music by Rick Springfield and Tim Pierce)

Everybody looks so spaced out there
Busy bowing to the priests of noise
Turn it up and make it drown out the warning
Bad news for the girls and boys
Everybody looks so romantic
Acting like it's nothing at all
Looking out for Number One
Working for the week and
Living to the beat
Dance this world away
Dance this world away
Dance this world away
Dance this world away
I see people all dressed like Nero
Fiddling while Rome burns in strife
Personal responsibility zero
We've lost that rhythm of life
There's a shadow on our bright horizon
It won't be manna falling out of the sky
The hard rain hits everyone
Working for the week and
Living to the beat
Dance this world away
Dance this world away
Dance this world away
Dance this world away
Dance this world away
Dance this world away
Dance this world away
Dance this world away

Somewhere there is a ship that's sinking
Why do I think that nobody knows
Looking out for Number One
Working through the week and
Dancing to the back beat
Dance, dance, dance this world away
Dance this world away
Dance this world away
Dance this world away
Dance this world away
Dance this world away
Dance this world away
Dance this world away

Dance, dance, dance this world away
Dance this world away
Dance this world away
Dance this world away
Dance this world away
Dance this world away
Dance this world away
Dance this world away
Dance this world away
Dance this world away
Dance this world away
Dance this world away
Dance, dance...


(total playing time 4:33)
Song Facts:
Rick performed this song live during the 1985 tour.

This song appears on the following releases: Tao, Best 21 (Jpn), Legendary, and Anthology (written in rock)
According to US
I must've been going thru my ditzy teenage girl hormone thing when this song was released. I took it at face value; didn't really look into the lyrics too deeply. Yeah, yeah - there's a nuclear threat, the politicians have been hanging this over our heads for years. I couldn't understand why Rick felt it was such an important topic to warrant a song on an album. I wanted to hear more "I love you" songs..not this.

I wrote a paper in high school titled "Artists' Lyrics Reflect Nuclear Worries", and quoted this song heavily, as well as other songs of the day that were prevalent with this type of theme. It seemed to be in the *in* thing to do mid-80's. I pointed out how Rick was saying that this nuclear threat was going to catch up to us, catch us with our pants down-so to speak. How it seemed that these celebrities / musicians seemed to make a somewhat moot point (loved that word then, still do) in my opinion, when there was so much more at home in families lives that needed to be addressed. Children were being abused, teens were running away, whole families were homeless...etc.

Needless to say I got an A for my efforts, but the whole point of the song was lost on me then. Now I look at these lyrics, and especially the line "Turn it up and make it drown out the warning" screams at me. That's what I did back then.

However, take a look at the words once again. Rick may have written them with the intent of warning us of a nuclear threat, but now they ring more true with what's going on in society today. "Personal responsibility zero" I think that could be a tagline for Paris, Lindsay, Brittany, etc. Oh heck, let's go back to the beginning of the song, "Everybody looks so spaced out there" --right there sums up a lot of Hollywood these days.

As for the rhythm/beat and overall song itself, it's not one of my favorites. I feel that the repetitive "Dance this world away" lines give notice that maybe Rick ran out of things to say and needed to make the song longer or something. I also found it strange that there are two other people singing in this song (albeit one line each) and yet Rick doesn't acknowledge that much, nor has he ever said (that I'm aware of) why he chose to record it that way. The only little nod (and it's a blink and you'll miss it opportunity) is in the music video -a puppet sings the other two lines that Rick doesn't. - Michelle P.

---
This song does nothing for me, not even now, really. I have no idea what I thought about it back in the 80's, I know I never knew the deeper meaning of it. There's all this serious subject matter set to this really up beat. This was probably done on purpose to emphasis the point. I was listening to this song on the way back from a movie a couple of weeks ago, my 14 year old son was with me, and the end was playing (where Dance This World Away repeats over and over), and he says "gee, I wonder what the name of this song is".......It does seem to go on forever, kind of like Rick is saying if I just sing this enough, over and over, all this bad stuff will go away. Anyone else think it sounds like he's saying "dancing the world away"?.....I have to be really careful, because that's what I think it is half the time (you'd think the title would clue me in just a little).
My favorite line is "personal responsibility zero", because that was SO the attitude of the 80's. - rlh