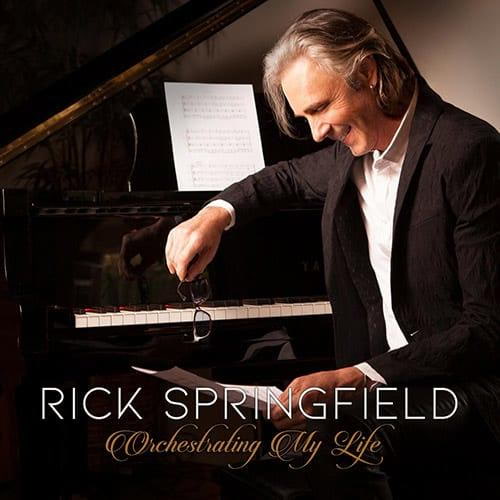 MY FATHER'S CHAIR
(Lyrics and Music by Rick Springfield)

My Father's Chair still standing there
All alone since the long night
Now it's three years on and I still feel
He'll come home, we'll be alright

So where's this healing time brings
I was told the pain would ease
But it still hurts like the first night

That night my brother, my mother and I
Were looking up at a distant star
And wishing we could reach that far

And back in the house
And alone for the first time
We told each other we cared
We avoided My Father's Chair

I watch my family, we hold on
We are strong and we'll be alright
The clock continues counting down, all the while
And every child will share the long night

But do the spirits meet again
Why am I still so filled with doubt
Is my soul everlasting

And the far distant future
When I knew you'd be gone
Came too fast and stays too long
Why do they leave the weak of spirit
And take the strong

When the world turns sour
And I get sick from the smell
And I can't find no comfort there
I climb into My Father's Chair
(total playing time 3:26)


SONG FACTS:
Rick performed this song on Dick Clark's American Bandstand 25th Anniversary Special.

This song appears on the following albums: Tao, Greatest Hits Alive, and The Best of Rick Springfield (Japan).
Footnote - background picture is a promo shot from the Dick Clark 33 1/2 special, where Rick performed My Father's Chair.
According to US
I remember hearing this song for the first time. Ok, I cheated. I don't really "remember" but, when I came home from the concert where Rick first played this song, I wrote down every single thought and emotion running through my head before I did forget it. So now, when I go back and read it - I do sort of remember. I would've been at the same concert that Lisa B was at in Detroit that year in 1985, at Pine Knob, in Detroit. This was my first up-close concert experience with Rick where he was bigger than a grain of rice, I had 3rd row seats. When the show came to this song, and Rick slowed down to a stop on the stage and stood there and talked to us, I suddenly felt like the rest of the crowd was gone and I was standing there alone, and he was talking just to me. I could see the pain on his face, and in his eyes as if it was still to hard to express. I felt proud that he wanted to share this new song with us. I had not had a profound loss of anyone in my family to relate to with this song, but I swear I could feel all the emotion radiating out of Rick and into my soul. I weeped. My friend who was with me, could not understand this sudden change in me. I went from screaming my fool head off, to a sobbing mess. It made a profound impact on me that Rick would share something so personal with his fans. I went home and wrote "Rick played a new song tonight, called "My Father's Chair". He sat at the piano while a slideshow played on the big screens of Rick as a child with his parents. It is a great song, but I think it won't be played on the radio or anything like that...too personal" (yep, I wrote with the .... back then too)

Then the following April, my grandfather died on the Friday before Easter. My mother's father - she was devastated. I am the oldest grandchild on my mother's side of the family, and we lived rather close to my grandparents. My grandfather was a photographer (a trait I sooo wish I had inherited) and I was the subject of many of his photos. We spent a lot of time together as I was his "first" as he always called me. I did not know how to handle the situation whatsoever, so I did what I did when things got too rough and I turned to Rick and his music. It didn't even dawn on me to play Tao immediately, I just starting playing random stuff..and then MFC started up. I was in my room, and I cranked it to the highest volume. My parent's room was across the hall, and my mother came out in the middle of the song and walked over to my room and sat on my bed with me and we cried for what seemed like hours until we were all cried out. My mother then told me she had never really paid attention to what Rick was singing about in my room, it was just noise to her. I told her what little I did know then about Rick's father, and we talked about different things on through the night. It was from that day on that my mother never berated me for liking Rick.

I so wanted to play this song at the funeral, but I was overruled by my mother's brothers, who chose "The Leader of the Band" by Dan Fogelberg. So now, whenever I hear THAT song... I think of the funeral. I still think of my grandfather's passing however, when I'm listening to MFC on my own. I'm thinking he's looking down on me with a smirk though, that would be just like
him.

When I first met Rick in 1997 at the now famed Tucson Tennis Charity event, his mother was in attendance that weekend. The performance of this song is what stands out for me that weekend (ok, next to actually MEETING Rick). Rick sang this song with more feeling than I had ever seen come out of him. I'm sure that his mother had heard the song before, but the look on her face
made it seem she was hearing it for the first time. Rick was in tears, his mother was in tears, we all were bawling. It sounds awful, but it was a good thing.

My father is still alive, and somewhat healthy. I've had a very stormy relationship over the years with my father, but it has improved for the better the older we get. Therefore, the lines that stand out for me in this song are "..the clock continues counting down all the while and every child will share the long night." I dread this night happening for me. My dad has a "chair" too. My father has also expressly forbidden me to play "that damn
Rick Springfield" at his funeral also, so I will be comforted alone, once again with Rick's music when the time comes. - Michelle P.


---
Even though this is my 2nd all time favorite song, I actually don't have any personal identification with it. I've actually lost all 4 of my grandparents and both of my parents, so you'd think this would be chalk full of personal emotions for me, but since I don't really deal with the whole "death" thing, I just push all those emotions away and don't really go anywhere personal when I hear the song.
The reason I love this song so much is, to me, this is the heart and soul of Rick Springfield. This is the side of him that makes him so special. That he can feel this deeply, word it in such a beautiful way, and is willing to let us see him so raw. It's truly his gift to us. The fact that this song has touched so many other people and helped them deal with loss, makes it even more special.
My favorite line in the song is "when the world turns sour and I get sick from the smell".......The way I identify with this line is that when other people's bad behavior makes me sick, it helps for me to put on a good Rick Springfield song, and feel his "goodness" and let that remind me that there are good people out there, and try to hold on to that, instead of letting the badness eat me up. - rlh