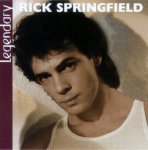 DADDY'S PEARL
(words and music by Rick Springfield)
So you tell me she's a little cheater
She's a man eater
Yeah that's all right
'Cause I think I know her better
You can keep your chatter
And I know it's gonna be alright

Bite your tongue
You know I don't want to hear this
Bite your tongue
You know I've been told before
And I don't wanna hear it anymore
'Cause you're not talking 'bout my girl (no, no)
She's a Daddy's Pearl (oh, oh)
She wouldn't hurt me for the world (no, no)
Oh, Oh, OH

Everybody seems to get their kicks waitin
for some fixation they've got
That I'm gonna find out
Sooner or later
They're sure it's coming but I know it's not

Bite your tongue
You know I don't want to hear this
Bite your tongue
You know I've been told before
And I don't wanna hear it anymore
'Cause you're not talking 'bout my girl (no, no)
She's a Daddy's Pearl (oh, oh)
She wouldn't hurt me for the world (no, no)
Oh Oh Oh

Daddy's Pearl
You know she's Daddy's Pearl
You know she's Daddy's Pearl
You know she's Daddy's Pearl

Bite your tongue
You know I don't want to hear this
Bite your tongue
You know I've been told before
And I don't wanna hear it anymore
'Cause you're not talking 'bout my girl (no, no)
She's a Daddy's Pearl (oh, oh)
She wouldn't hurt me for the world (no, no)
Oh Oh Oh


(total playing time: 2:37)

SONG FACTS:
This song appears on the following releases:
Working Class Dog, Legendary. and Working Class Dog expanded edition
Rick played part of this song in Atlantic City, NJ on 1/22/00 and again in Milwaukee on 5/7/04
Footnote - the background picture is Rick's dog Pearl. The picture was taken during a tour of the backstage area of EFX, and was hanging on his dressing room door.
According to US

I have a love-hate relationship with the melody of this song. I enjoy the music that accompanies each verse, but when he gets to the chorus…it is kind of sappy…well, maybe I should rephrase that. In my opinion, the music found in the chorus does not compliment the music that punctuates the verses.

Like I mentioned before, it is as if this song is the prequel to 'Everybody's Girl'. The emotions I feel when listening to this song range from feeling sorry for him because of all the trash talk everyone is saying about his girlfriend. This is followed by a smidgen of admiration for him for sticking up for her character. He truly believes she is a 'Daddy's Pearl' type of girl and that she would never hurt him. This is a perception common at the beginning of many new relationships that are in the 'romance phase'. I have been there myself, and when the relationship does not work out, I often wonder to myself 'what the hell was I thinking'? Then I begin to feel sorry for him in a different way, thinking, boy oh boy, love is blind and he really can't comprehend what everyone else around him is saying.

When I listen to this song, I find myself being full of empathy and sympathy, sprinkled with a little admiration. In my own father's eyes, I still am his 'Pearl' and can do no wrong, but I know differently. - Kat Mendelin
---
First off, this has got to be a lie..."words and music by Rick Springfield" because I'm thinking this is surely one of those songs Rick is ashamed of if it is true.

I'm not sure which verse is worse, "you can keep your chatter and I know it's gonna be alright" (or in some other people's case, "cheddar") or the "bite your tongue" which for the life of me I had no idea what the heck he was saying in 1981. I actually bought the sheet music to this song from Musicland because it had the words to it! I remember standing in the store going "Ahh...bite your tongue." I thought he was saying "What's she done?" Shows ya what a songwriter I am.

Although....
I think that what Rick was trying to say comes through loud and clear once you get through the misheard/misunderstood lyrics. Everyone thinks this girl is a bad girl, but Rick knows she's not. Oh, and shut up talkin 'bout my girl! Oh, oh

The teenage me really didn't give this song much thought. I think this it is a prime example of "bubblegum" music. The adult me also didn't give this song very much thought, because now when I do, I just wince. Visibly. It's not a pretty sight. - Michelle P.
---
Talk about a 180 degree flip, Rick goes from talking about a girl's reputation in "Everybody's Girl" to defending a girl's honor in "Daddy's Pearl". The lyrics and the music just fit really well but overall the song has just an almost do-wopy feel to it. And it all feels very rushed, like he's trying to get through the song as fast as possible. And the 'no, no' and 'oh oh OH' lines are a little odd. And almost like Rick couldn't figure out any more lyrics so he just threw in some sounds. The question that always pops into my head though is what the heck is a 'Daddy's Pearl'? Through the use of the term in the song I'm guessing it's like a Daddy's Girl or just a way to say she's a sweetheart? It is just not a term I'm familiar with otherwise and it seems like he would say she's his pearl in defending her and not Daddy's. So I suppose this song leaves me scratching my head more than anything, right? Oh oh OH! ~Jen H.
---
As I've said in almost every review, there is not a song on WCD that I skip because I dislike it. But if I were forced to narrow down the collection and decide on a least favorite, it would probably be this one. One song HAS to fall last on the totem pole in terms of favorites, and this would be the one.

With that being said, I do like this song for many reasons. The whole vibe and what he's saying makes it a kind of "feel-good" song for me. (even though I think deep down it's kind of sad. I have a feeling maybe she wasn't all he expected, and he ends up getting hurt.) For me, the sentimental value in the song is sweet, since I WAS "daddy's little girl" at one time, or as Rick calls her, "daddy's pearl." During the period I discovered this song, it was that very time in my life. So it is dear to my heart in many ways. In fact, this is probably my 12-year old daughter's favorite song on WCD along with Jessie's Girl!

I like when Rick writes in a protective nature, which is how Daddy's Pearl sounds to me. He is in denial of what the guys think of her and say: "you can keep your chatter, and I know it's gonna be alright. Bite your tongue! You know I don't wanna hear this." He cares for this girl and he sticks up for her here. To me it's a kind and sweet gesture. Although, the other part of me says that maybe he's the fool, and she is young, beautiful and playing him. As another reviewer mentions, this song really should have come before Everybody's Girl, rather than right after it. It sounds like the "blinded by love" period, or the pre-dumping stage. And then EG could follow it as the song where his eyes open to her and he sees the others were right. There are so many different ways to take this one.

Maybe she was a young, innocent whom he cared for deeply. (which brings to mind his protectiveness in the song "Weep No More.") That is one of the most attractive things about this song for me. Rick has his mind made up and will not believe their gossip. He says that she "wouldn't hurt me for the world." I think it's precious that he stood by what he believed in with this woman (or girl more like), even if she may have hurt him in the end. Rick seems too gullible when it comes to love. But his romantic nature is part of what steals my heart.

All the oh-ohs in parts get to me a little bit, but I think Rick sounds amazing vocally, the music is catchy and the sentiment behind the song is genuine. - Kelley Pearson
---
It occurred to me today, that Daddy's Pearl should have gone on the track *before* Everybody's girl instead of directly after. I think it's the same girl. He's in denial (and yes I would have written that before sdaa) about her at this point, then when he finds out......Everybody's Girl. Makes total sense to me now. - rlh

---
This song is about a relationship that Rick really wanted to work out, to the point where he was in denial. She was (in his eyes) the perfect girl for him. She certainly must have had some good qualities for him to want to stay with her even when the writing was on the wall. Apparently, his friends were all telling him she was cheating and he just couldn't accept it. It also sounds like he was angry with them for knowing and wanting him to find out-( Everybody seems to get their kicks waitin, it's some fixation they've got). I think he did a good job singing this song. It's funny, but when I hear his voice on this song, it's really apparent how much deeper his voice has become as he has aged. The music has a good beat and I love the background vocals on this song. - Elizabeth S.